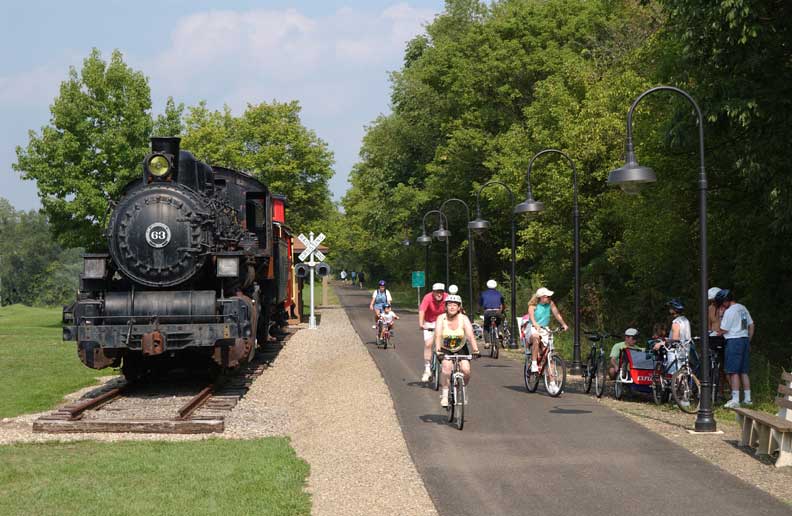 Ariel-Foundation Park is privileged to be located directly on the Heart of Ohio Trail (HOOT). The HOOT trail meets the Kokosing Gap Trail at the CA&C Depot on South Main Street in Mount Vernon, which also seves a a welcome center. The park is a great place to stop for a picnic lunch, to climb Rastin Tower, to fish, or take in a summer concert or movie event. The park also has three lakes perfect for kayaking and is adjacent to the Kokosing River Scenic Waterway.
Public restrooms and water fountains are located at the CA&C Depot, Schnormeier Event Center, and the Kiwanis Picnic Pavilion (by The Lakes).
Sidewalks can take you directly from the trail and the park into downtown Mount Vernon, where you will find a variety of restaurants, bakery, coffee shop, bookstore, art galleries and shops, and Y-Not Cycling and Fitness (206 South Main) for all your cycling needs.
For more information:
Park/Visitor Rules
Heart of Ohio Trail
Kokosing Gap Trail
Ohio to Erie Trail
Ohio Bikeways
Knox County Park District
Central Ohio Greenways
KnoxWays - links to dining, camping, activities, event/festival calendar and more
Pelotonia
(Photos courtesy www.knoxways.org and www.knoxcountyohio.org.)
Save
Save
Save
Save
Save
Save
Save
Save